LiGenius – 
Oracle licensing and consulting services
LiGenius Solutions AG is a Swiss company, founded by experienced management, consultation and software development professionals specializing in Oracle software asset management.
As professional Oracle licensing consultant, we were not able to find a SAM tool on the market that meets all requirements for a complete and smart Oracle license analysis and optimisation. That's what we're here to change!
The internal beta testing for our first product, the GOT4DB tool for comprehensive analysis of Oracle databases, began in summer 2021. The software will be available soon as Software-as-a-Service or on-premise solution for both, individual customers and infrastructure service providers. Subscribe to our newsletter to be the first to know once we make our solution available to the public.
As one of the world's largest software companies, Oracle has a wide range of products in its portfolio. These are licensed according to a number of varying metrics.
Most Oracle customers find themselves incapable of finding their way through this jungle of licensing rules without help. And in negotiations or audits, they are exposed and put into the position of David against the "Goliath" that is Oracle.
The financial risk for users of Oracle products, whether due to under-licensing or poor contract design, is enormous. Users therefore need license management for their chosen Oracle software that gives reliable results, can flexibly accommodate individual contract terms and deliver meaningful information and optimisation recommendations that are founded on a thorough root-cause analysis.
LiGenius is your partner of choice when it comes to experience and tool based consulting services. we provide our clients with personal, fast and individual support they can rely upon.
We are clearing a pathway through the Oracle licensing jungle so that every customer can find their way to the right licenses, without risk, without over-payment and without headaches.
We will be the provider-of-choice for smart software asset management tools that support Oracle license management, complementing our SAM portfolio with consulting services to support our clients in defining and implementing optimization.
We believe in and promote partnership.
We add to customer benefit through innovation and up-to-the-minute information and promote communication between our clients.
Our team has many years of expertise in the Oracle environment from both, license management perspective and the technical infrastructure that the Oracle software is running on. This combination of experience is the foundation for our highly evolved strategies for licensing, optimisation, contract design and license negotiation.
The Oracle specific field of expertise is completed by our solid software design and engeneering background, which puts us in the ideal situation to develop our own tool set for highly automated software asset and license management, specialised on Oracle products.
Mike has been in the Oracle business since 1999 and worked in various technical and management roles within his domain of expertise. He combines comprehensive knowledge of all Oracle products with his excellent track record in Oracle license management.
From his own practical experience, Mike developed many innovative and practical approaches to Oracle license management and optimisation, which he is now applying as founder and CEO of the LiGenius Solutions AG.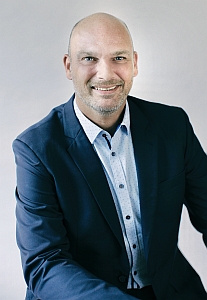 Having studied economics, and working in between entrepreneurship and software design, for over 20 years Hauke has been engaged in large-scale, enterprise grade software projects as an architect of scalable and flexible applications with longevity in mind. With this background, Hauke will ensure that our tools are built on a solid foundation with security and scalability in-mind, flexible enough to cope with a large variety of future ideas.
Hauke is acting CTO and Lead Architect for the SAM software solutions.
After his degree in software engineering, Dirk has been working for many years internationally and in various technical and management roles: from Software Developer over Business Analyst, to managing large-scale IT projects and programs for the industrial and financial sector. Having founded his own consulting firm in 2015, he's got all the required expertise and is accustomed to the challenges of bringing the right resources together,  and making sure that each and everyone in the team is combining their strengths to work towards the same objectives with enthusiasm and dedication.
Dirk is acting head of Product Management and Development for the SAM software solution.